'Tis the season, online casino lovers!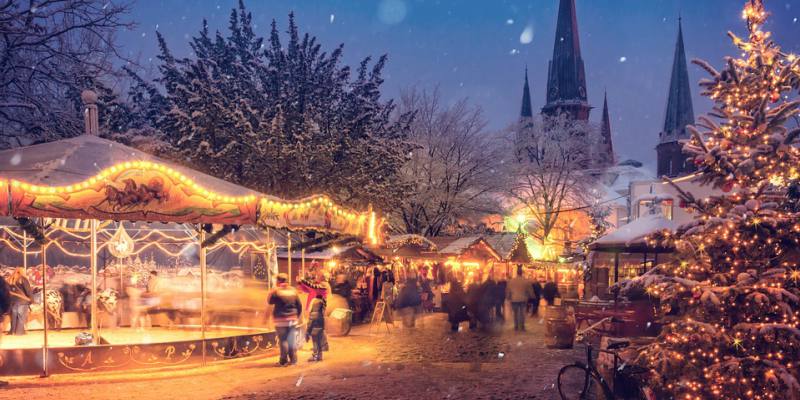 As the year draws to a close, all eyes inevitably look towards the festive season and the promise of snow, Santa and presents under the tree. This year more than ever, people are excited for a chance to see their loved ones and share some joy, so this Christmas should be one to remember. If you're an online casino fan looking to get into the spirit of things, then where better than Europe's fabulous Christmas markets.
Europe has a long history of Christmas markets and, for many, the festive season doesn't begin until these picturesque pop-ups have sprung up all across the continent. The smell of street food wafts down city streets, beautiful ornaments and hand-made crafts are lovingly displayed for all to see, and people chatter excitedly about their plans for the holiday season. It's impossible not to feel the Christmas spirit as you stroll through the booths and kiosks of Europe's finest Christmas markets, so read on to discover where they are and what you have to visit to make the most of your trip!
1. Christmas markets in Prague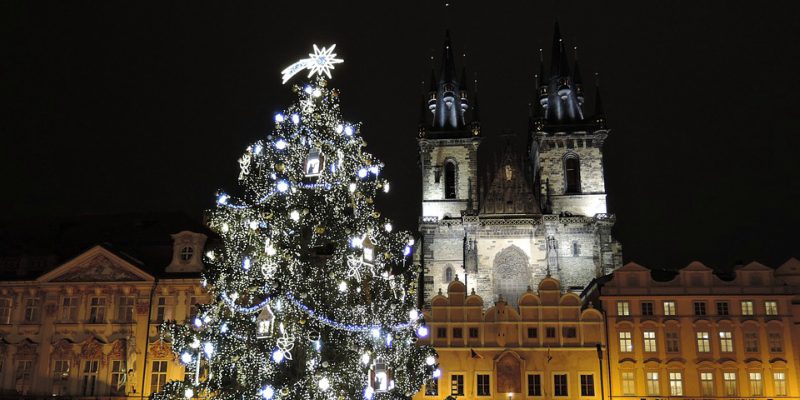 Visitors to online casinos from Czechia are probably already familiar with the gorgeous Christmas markets that pop up in Prague every year. These are primarily located in the Gothic Old Town, where eye-catching architecture provide a stunning backdrop for booths selling ornaments and local Christmas delicacies. Trdelnik is a particular highlight. This pastry is rolled in sugar and cinnamon, grilled and then served warm, offering melt-in-the-mouth flavour that will have you coming back time and time again for more! The cool Czech climate is crisp and festive this time of year, so wrap up warm, get a mug of hot cocoa and enjoy a leisurely promenade among the vendors, who sell painstakingly crafted and decorated ornaments. Who knows? You might just find the perfect decoration for your tree, which will serve as a souvenir of your visit.
If you love your trip to the Old Town markets in Prague, head over to the Christmas market in Wenceslas Square. This is a five minute walk away and features even more booths and kiosks with local handicrafts.
2. Cologne Christmas Market
Though Christmas markets in Europe are as plentiful as top-class online casinos, Germany has really set the standard and blazed trails for these events. While larger cities like Berlin and Munich offer sprawling marketplaces, the Cologne Christmas Market has made its mark thanks to its world-class entertainment. Over one hundred stage performances are organised throughout the market, with styles ranging from swing to gospel – and everything in between! This electric entertainment provides the soundtrack to any trip to the fair, which serves up everything you've come to expect from a German Christmas market. Think flavourful gingerbread, warming mulled wine and captivating lights that twinkle against the night sky and the elegant backdrop of Cologne's majestic cathedral.
3. Christmas market at the Skansen Open-Air Museum
The Skansen Open-Air Museum in Stockholm dazzles visitors to Sweden's capital all year round, but its Christmas festivities are a highlight of its annual calendar. This Christmas market doubles as a time machine, transporting visitors back in time with its historic homes and farmsteads. Period details are painstakingly recreated on this island in the heart of Stockholm, which makes this a particular highlight for history buffs. After you explore the buildings and admire the staggering attention to detail, you can sample local cuisine at the market stalls, including tasty smoked turkey and sugared almonds. If this taste of the local culture intrigues you, why not watch a display of traditional dancing, or, better yet, try your hand at a few steps yourself? This fun and energetic activity is a perfect capper to any day at the Skansen Open-Air Museum.
4. Advent in Zagreb
While the Christmas period sees squares across Europe transform into bustling marketplaces, Zagreb takes this a step further, with the entire city converting itself into an urban fair. It's no surprise, then, that Advent in Zagreb has been voted the best Christmas market in Europe for three consecutive years, or that it attracts masses of tourists to the Croatian capital each festive season. Like the best online casinos, Advent in Zagreb makes its mark by offering an enviable array of different activities, from traditional Christmas crafts to ice skating and concerts. Make sure to check out the live Nativity scene, which is one of the best of its kind in Europe.
5. Christmas in Tivoli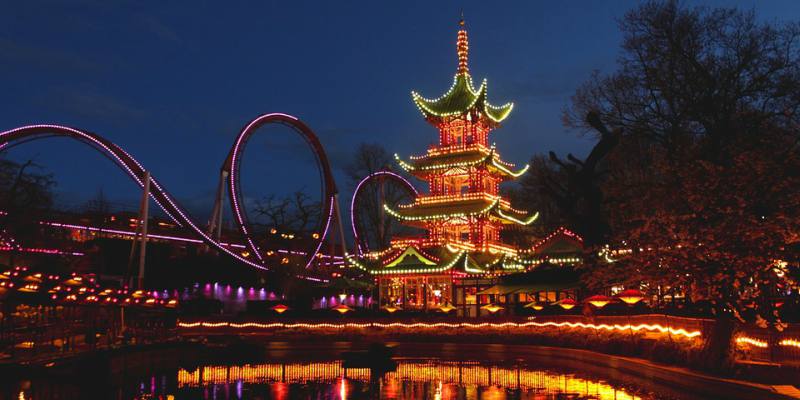 Disneyland may have made its name as the happiest place on Earth, but did you know that Walt Disney found his inspiration for that park at Tivoli Gardens? This theme park boasts plenty of rides and attractions throughout the year – perfect for those who play at a casino online – but there's something especially breath-taking about their Christmas display. Half a million dazzling fairy lights create a magical ambience, while the aroma of Danish delicacies teases and tempts foodies with the promise of new and enticing flavours. Small pancakes topped with powdered sugar – known locally as aebleskiver – are a bite-sized treat that pack a major taste punch, so make sure you give them a try!
6. Viennese Dream Christmas Market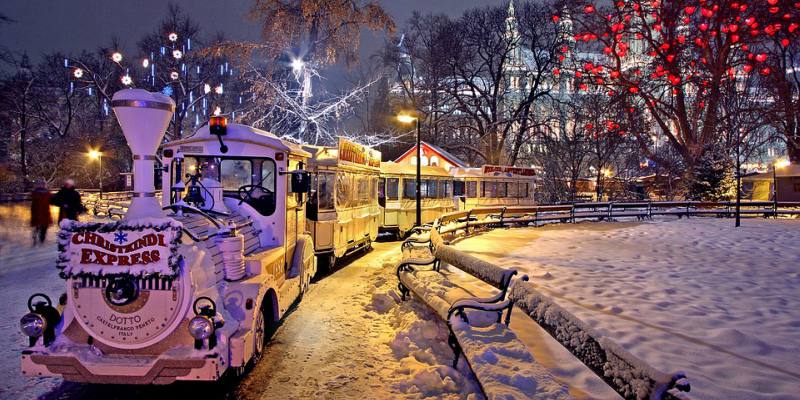 Austria's capital enjoys flurries of snow most Decembers, making it an ideal place to spend the Christmas holidays. The snow-capped mountain peaks are an ideal background to the local Christmas markets, which boast exceptional attractions that will enchant those who love the fast pace of a casino online. Chief among these is the promise of reindeer rides, which will delight kids and parents alike. You can also skate at an ice rink, before admiring the alpine views from the towering Ferris wheel. Don't have a head for heights? No worries! The merry-go-round offers a thrilling chance to view the urban landscape from a new angle.
7. Wroclaw Christmas Market
The best online casinos are distinguished by the calibre of their guests, and the same is true of Christmas markets. It's worth noting, then, that the Wroclaw Christmas Market is opened by none other than Santa Claus himself, which must be a ringing endorsement of the quality of its attractions! The wooden stalls give this market a classic look, but the real star is the fine food that is served up by local merchants and expert cooks. Warm up with a glass of mulled wine, then sample locally produced gingerbread and various flavours of waffle. This festival kicks into high gear in early December and sets the tone for a Christmas period that you'll never forget!
8. Magic Christmas in Colmar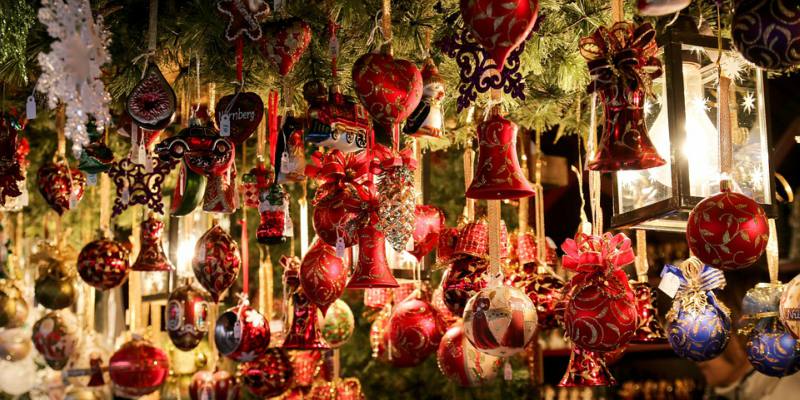 Walking along the soul-soothing canals and timbered houses of Colmar feels like stepping into a fairytale, so it's no surprise that this city is the ideal setting for a Christmas market. Different marketplaces are set up across the city, with each putting its own twist on the festive season. A turn-of-the-century carousel is a winning touch, which further underscores Colmar's idyllic atmosphere, while the sound of children singing echoes through the streets and heightens the otherworldly feeling of this charming Christmas destination.
9. Trento Christmas Market
Nested in the mountains in Trento-Alto-Adige in Italy, Trento is a perfect setting for a Christmas market. Snowy peaks surround this quaint city on every side, while the spacious squares and winding, cobble-stoned streets are ideal for hosting local vendors and twinkling fairy lights. Stroll along the city streets and admire crafts from the finest local artisans – some even travel from other Italian regions to sell their wares at this prestigious annual event! Your destination is the imposing Castello di Buoncastiglio. This castle houses beautiful frescoes, which earned Trento the nickname of "The Painted City", and towers over the main square and its 90 wooden booths. Here, you can buy delicious hot chocolate, sample Italian and German Christmas cuisine and pick up everything from wooden carvings and home-made candles to knitwear and Christmas tree decorations. It's no wonder that Italians have come to refer to this market as the "Città del Natale", or Christmas city – the entire urban landscape transforms into one big festive celebration!
10. Tuomaan Markkinat
The city of Helsinki delights visitors with an elegant combination of tradition and modernity, so it's natural that its Christmas celebrations would also follow this pattern. Senate Square, one of the city's most iconic open spaces, is home to market stalls and Christmas carols, while the wafting scent of cookies, gingerbread, hot chocolate and mulled punch mix and linger in the air, evoking memories of Christmases past. These classic holiday staples are interspersed with a more unique take on the holidays. Why not attend a dog costume pageant and watch as proud owners display their beloved pooches and their finest Christmas outfits? Alternatively, head to the sauna and heat up the winter weather in the heart of Finland's capital city. Wood-heated saunas are a key part of Finland's heritage, but the chance to enjoy one in Senate Square is an unusual, once-a-year treat that won't soon be forgotten.
New players get $/€600 bonus
Find Out More